The holidays are just around the corner and it's time to start thinking about how you will decorate your home for the festive season.
While there are many way to decorate your home for the holidays you just cant beat the look and feel of a style that is truly unique to you.

If you don't know where to begin or are at a loss for what to do, don't worry. This short guide will give you ideas and tips on how to choose the best holiday accessories for your home!
How to Find the Perfect Holiday Decor for Your Home

If you find that initial inspiration hard to come by, try to start with what you like. What colors do you gravitate towards? Are there certain things that remind you of your childhood? What do you like to do most in your space?

The next step is determining what type of holiday decorating style you prefer in your home. There are several to choose from:

⦁ Traditional: A traditional Christmas tree with stockings hanging from the mantle and a Christmas wreath on the door
⦁ Contemporary: A modern Christmas tree with lights and ornaments
⦁ Eclectic: Mixing contemporary with traditional elements 
⦁ Rustic: Decorations made from natural materials like wood and clay
Once you know what kind of decoration style speaks to you, it's time to start shopping! Here are some tips on how to find the perfect holiday decor for your home:
Start with one room 

Every year, people get overwhelmed by how much work needs to be done before they can enjoy their holiday festivities. If you're starting from scratch, this can seem extremely dauting, so start small.
Decorate one room or even just one corner of your home with decorations that represent your favorite holiday tradition or memories from the past.
Think about scale 
Your decorations may not be up year-round, but that's no excuse why they can't complement the rest of your home with a similar color, theme or size.
Think about the size of each piece too; if you're going for a minimalist look, don't buy anything bigger than what you already own. If you're going for something more elaborate and colorful, make sure that the pieces are proportionate to each other.
Our Recommendations: The 5 Best Holiday Decorations to Spice Up Your Home

Here are our top 5 great holiday furniture decorating ideas that will help you create an inviting atmosphere for the season:

⦁ Tabletop Tree

The tabletop tree is a great way to bring some life into your living room without taking up too much space. It can be used as a centerpiece or on top of the cocktail table for added ambiance. You can also use this idea in your bedroom if you don't have enough room for a real tree.
Holiday Lights
Holiday lights are perfect for adding some color and festivity to any room in your home. They can be strung around windows, over doors, or on ceilings for added ambiance as well as decoration purposes. You can also place them by the fireplace to make the living room extra cozy. Don't forget to consider the tone of lighting in your living space or the chandelier in your dining room when searching for lights to pair.
Glassware
Glassware is a great way to bring some shine and cheer to your holiday decor. Mercato Interiors has a wide selection of glass sculptures in all shapes, sizes and colors. These can be used as decorative pieces on mantles or tables or used in window displays for an added splash of color.
Wreath With Lights
A wreath with lights can be hung on your front door during the holidays to welcome anyone who comes around, while also adding some color and life to your house. 
The terms 'stunningly beautiful' and 'lavishly comfortable' usually act like two poles of a magnet when it comes designing furniture. Until now!
Natuzzi Italia's renowned furniture architects Manzoni and Tapinassi have seemingly defied the furniture laws of physics with the Fidelio Reclining Sofa where extreme comfort comes together with striking beauty to form what could be considered the perfect sofa.
Boasting a rock-solid firm structure and optional high-tech power relax systems, the Fidelio feature armrests that are embellished by a handstitched "pinched" piping and rests on a metal frame which defines the modern outline of the sofa.
A full power version is available where each seat is equipped with an exclusive Soft Touch relaxation mechanism that operates separately from the other seating positions and allows you to simply slide your finger on the armrest to change the seat and backrest position for optimum comfort.
The Fidelio also includes Natuzzi's recliner mechanism which features a "zero wall" system that allows the seats and backrest to move and incline forward as the sofa opens so there's no need to keep it away from the wall.
The Fidelio is available in a wide range of fabric and fine thickened Natuzzi leather upholstery options.
All too often the answer is "not very". It usually takes a pillow stuffed here or there, combined with having to twist or turn your body to that find that sweet spot, which inevitably doesn't last two long anyway. When you think about, you are actually conforming to your chair instead of the other way around. There is a better solution.
American Leather created the Comfort Air that was designed to move and conform with your body to find YOUR most comfortable position, not the chairs. It uses a patented mechanism that cradles you to the perfect lounging position for optimal comfort. It will glide, swivel, and rock with you.
Knowing that people come in all sizes, American Leather gives you three sizes to choose from, from standard to oversized, all of which can be customized to fit your comfort needs with a huge assortment of fabrics, leathers, footrests, and finishes.
There are six styles of Comfort Air Chairs and the solution to finding the right one for you is to visit our showroom and take a few for a 'test-drive'.
It's been said that "art must be an expression of love or it is nothing." As humans we express ourselves in many ways, from the clothes we wear, by the way we speak and the objects we surround ourselves with. Our home and how we furnish it is the ultimate in expression. It clearly and instantly states who we are and where our unique style and tastes lie.
This can also be said for those who design and manufacture the furniture we select for our home. An excellent example of this expression is the Cuff Bed designed and handcrafted by the artisans at Bonaldo Italia.
The Cuff Bed was designed to express a strong personality through the use of bold tailoring details such as the unique 'frog fastenings' that adorn the two flaps that cover the luxuriously padded headboard as well as the pleating that marks the vertical pattern of the back panel cover. These details are intended to dramatically stand out by demanding the viewer s attention.
Bonaldo expresses their love in the art of furniture sculpting by the use plush upholstery for the headboard which they make available in either fine leathers, eco-leather, or rich traditional fabrics. These materials can be carried over to the bed surround as well. In another expression of the beds strong personality are the bold metal feet, that are available in different colors allows yet another opportunity to express one's self in functional art.
Designed for a modern world, the Cuff is available in a storage version with a double-movement mechanism that provides an excellent place for pillows, extra bedding and even clothes and personal belongings.
We invite you visit Furniture Market and see the Cuff Bed displayed in an exquisitely detail room vignette that promises to delight the senses and inspire your imagination.
One of the first questions new clients ask when they visit Furniture Market is what is the difference between the various styles and which style suits me best? At Furniture Market we carry the two most popular styles in the industry today, which is transitional and contemporary-modern. Big, bulky, dark traditional furniture was once super-popular during the 'Tuscany Craze' but has since been replaced with lighter, more minimalistic modern designs.
In general, modern-contemporary pieces tend to be minimalist, with sleek, simple lines. When some people hear the term "modern furniture" they imagine artistic pieces not suited for everyday use. But in truth they are! At Furniture Market, we specialize in high-end, well-made, comfortable furniture to suit any taste.
CONTEMPORARY
Modern-contemporary furniture refers to furniture styles that came about after the 19th century. These pieces tend to utilize lighter wood tones, brighter fabrics, and newer materials, like metal and clear acrylics. Contemporary furniture embraces the use of free, open space as part of the focal point of the home and is popular as it helps to enhance these spaces by being less visually heavy. Although contemporary furniture tends to be lighter and less ornate, you want to ovoid cramming multiple pieces into a single area. The overall appeal of the modern look is that it doesn't take up too much space, and it provides functional multitasking, such as additional storage.
TRANSITIONAL
This style of furniture is in essence a bit of contemporary and traditional combined. When defining your design style, if you find contemporary too sleek and edgy, than your borderline style may be "transitional."
Transitional style is a marriage of traditional and contemporary furniture, finishes, materials and fabrics. The result is an elegant, enduring design that is both comfortable and classic. At Furniture Market we carry a great many pieces that fit into this style, including living rooms, bedrooms and dining rooms.
When choosing which style for your home, the secret is to choose what appeals to you the most and how they blend with the spaces you intend to fill. At Furniture Market we'll work with you every step of the way to find what suits your tastes and needs.
If your like me, I can walk into a room, look around and instantly know that something is missing. All the components of design are there such as color, furniture, and accessory items, but the entire room just feels a little flat. What's missing? Texture!
For what ever reason, texture seems to sometimes be an afterthought when it comes to interiors and yet its the thing that makes a room pop. It's what brings a perfectly fine design up to enviable levels. Here are my thoughts and ideas on texture.
WHAT IS TEXTURE?
It is often defined as, "the sensations caused by the external surface of objects received through the sense of touch", which translates into how things feel. Think about texture as running your hand along a rough wooden tabletop, soft carpet between your toes, or sinking down into leather couch.
But as an interior designer, I can tell you that you don't need to have physical contact with a room to feel the power of texture. Although it may only play a supporting role to the function of the space, it is no less vital to a design's success.
TEXTURE ADDS VISUAL WEIGHT
If you have visited Furniture Market or have read design magazines, you've heard the term "Visual Weight" mentioned often. What that means is that an object or space has the ability to draw attention to itself.
We use warm or cool colors to effect how a space feels. Texture works in a similar way. Rough textures are more likely to make a space feel intimate and grounded while smooth textures bring a sleeker more aloof tone to the room. Where these textures are placed in the room is an important to what textures are selected. Putting a smooth texture directly next to a rough one while make the rough object stand out more and seem weightier than if you space them apart.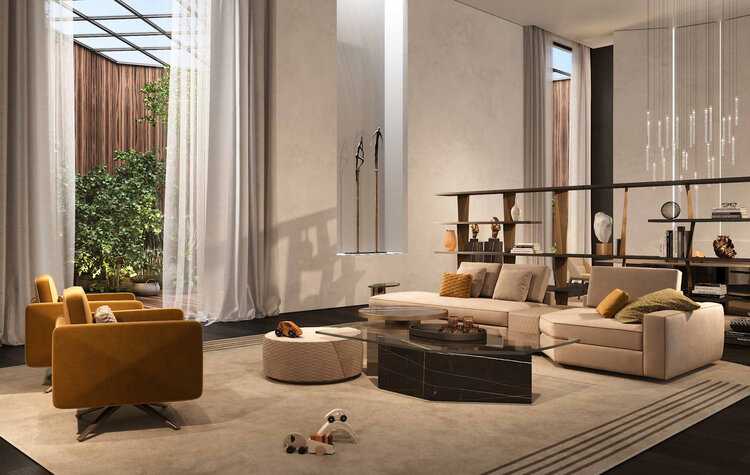 TEXTURE CREATES BALANCE
I've said it before and I'll say it again, contrast is essential when it comes to design because it keeps things balanced and provides visual interest. For example, if everything is too similar, our eyes have trouble focusing and tend to glaze over. The use texture makes sure your most important elements pop.
The secret to getting right is 'restraint'! Don't go crazy, just try and stick to two or three distinct textures in any single space. Choose three when you want people to take in the space as a whole and stick to two when you want to emphasize a prominent focal point.
Texture is particularly important if you're working within a particular color palette where the shades are very similar. If using a monochromatic or analogous color scheme, make sure you choose items that heavily contrast with one another. When they come together, they will bring a sense of harmony to the space.
TEXTURE IN THE HOME
The use of texture is well and good, but it only goes so far if you don't know how to effectively bring it into your home. Here are the rules I use when adding texture to a room:
Architectural Elements: If you have crown molding, chair rails, or tray ceilings in your home, make them a focal point.
Furniture: Wooden benches, satin reading chairs, and marble tabletops all bring a distinct feel to the space.
Decor Items: I often use shadow boxes, accessories, table lamps, knick-knacks and even flowers at time.
Floor and Wall Coverings: A carefully placed throw rug or even some patterned wall design will bring tons of depth to the room.
Textiles: Use cloths like slip covers, throw pillows, and even blankets to make the room pop.
Something to remember is you are using when choosing Texture vs. Pattern. These two things are usually talked about together, but they are two distinct and necessary components of design. Pattern refers to a visual print while texture is about how something feels. Make sure you incorporate both into your interiors instead of choosing one over the other.
Whether it be a throw rug to warm up your bedroom room or a wooden coffee table to bring life to your living space, the importance of texture is clear. Texture is the component that helps elevate your interiors to the next level and makes it feel fit for a magazine.
It is customary during this time of the year to give thanks to all those who have brought joy to our lives as well as those who have stepped forward to serve our community and our nation, especially in trying times such as these. Those that serve in 2020 seem to shine even brighter.
One of those shinning stars is Marine Sgt. Ryan MacDonald who not only serves his country but his community as well. Sgt. MacDonald commands the Las Vegas Chapter of the Toys For Tots, an organization known for gathering toys and getting them to children in need in time for Christmas.
We are fortunate have such leaders as Sgt. MacDonald, and even more fortunate by his designating Furniture Market as an official drop-off site for those wishing to make a monetary donation or the donation of an unwrapped toy.
For those wishing to donate but for whatever reason cannot make it down to the showroom, we are going to make it super easy for you. So easy in fact, you will not even have to leave your home. Purchase a toy online, such as from Target or Amazon and have it shipped directly to the showroom. We'll make sure it's added to our already growing pile of toys in time for Sgt. MacDonald and his Marines to retrieve them by December 16th. Send us an email of what you purchased, and we'll send you a picture of your toy along with the rest.
Sgt. MacDonald stated that this year's toy drive is even more important with even more people in need and is therefore concerned that the amount of donations will come short of expectations.
As for me and my team at Furniture Market we plan to 'think like Marines' to get the job done and bring joy to those who have been hit the hardest. Thank You
Please send your donation to:
Toys For Tots
c/o Furniture Market
6675 S. Eastern Ave, Las Vegas NV 89119
For information or assistance please email: r.lomassaro@fmvegas.com
Going out for dinner and a movie can be fun, but sometimes it can be a hassle. We have all experienced driving in circles looking for parking, long-lines, poor seats, stale popcorn, and the inevitable loud talker can sometimes dampen the entire evening. The solution is to bring the theater to you! Take that small spare room you don't use or that family room that everyone seems to congregate in to watch TV and turn it into a full-fledged Home Theater . You'll find it will bring the family together by building a space for bonding and fun. Here are some helpful tips for turning a small room into a home theater.
1. CHOOSE THE RIGHT ROOM
If possible, choose a room that has the fewest windows and doors. More wall space means more shelving space and more options for where to hang the screen. Be careful to consider whose room the new theater room abuts. Placing it next to or above the babies room might not be the best place.
2. CREATE THEATER SEATING
Seating should be set up to create enough seating for the whole family while allowing everyone a clear view of the screen. A carpenter can easily build a two or three level platform for relatively little money. The platform would be secured to the floor or a wall to prevent it from moving and covered in simple carpeting. Depending on the space available, reclining sofas can be installed on each level to make a cozy yet inexpensive seating environment. Otherwise, individual theater seating can be installed allowing each viewer their own chair complete with cup holders and snack trays.
3. CLEAR THE AREA
Get organized and give-up on using this room as the catch-all storage room. Think about the last time you went to the movies. Were there end tables, lamps, magazine stands and other family related items about the theater? Of course not! It contained seating and a screen, which is after all why your there.
.4. INCORPORATE PLENTY OF SHELVING
If you're limited on how wide you can go with furniture, than go tall. Select wall units that go high that will accommodate your videos, speakers, and books while still maintaining a sparse neatness to the room. Less is better!
4. BREAK OUT THE PAINT
Instead of a dark room, consider small wall mounted sconce lighting that can be controlled with a single dimmer switch. This will be easier on the eyes and avoid anyone falling in the dark. Next, paint the room a rich dark color such as burgundy, brown or dark blue. When combined with controlled lighting, you'll be able to create the sensation of a much larger theater.
6. STOW THE GEAR AWAY
Exposed and tangled wires will make any room feel cluttered, disorganized and cramped. Use wire-ties to keep them neat and hide them from view behind the shelving unit. This will give the sense of having a larger room.
7. GET IN THE MOOD
In a theater movie posters sells tickets! In your home theater they will create the illusion of being at the theater while setting the mood for a fun night of family viewing. Select a few of your favorite films and mount them in inexpensive frames to be secured to the wall. Select posters that are sized in proportion to the room, not too small or too large.
8. HANG-EM HIGH
Instead of using shelves or a media console for your television, mount the television on the wall to truly create a theater environment. Space it evenly on the wall so those seated in bottom row will only have to look-up slightly, while those in the last (higher) row will look horizontally even across the room. This will allow everyone to comfortably view the screen from any seat. Speakers should be hung either high on the front wall, or mounted high within the shelving unit for an unobstructed sound no matter where your seated. Sub-woofers work best when mounted low, closest to the floor. These can even be stored in the rear of the room.
The home theater doesn't have to be gigantic to be a fun part of your family's life. In fact, a small room, if painted well and set up strategically, can feel cozy and inviting.
It can also sound louder with stronger acoustics.
Rome was once considered to be one of the leading cities in the entire world and of all of Rome's contributions to the modern world, architecture is believed by many historians and scholars to be the most significant. One of the most stunning architectural achievements of the ancient world is by far the Colosseum built between 70 and 72 AD. Roman historians believe that the Colosseum could hold as many as 50,000 people seated on stone benches arranged in a tiered manner according to Roman hierarchy.
Natuzzi Italia has recreated the splendor and excitement of what was once Rome with their Colosseo Collection where you can again view the games, theatre and sporting events with your family and friends in the luxurious comfort of your own home colosseum.
Natuzzi has replaced the hard, stone tiered seating of the original Colosseum with a mix of padding in polyurethane, memory foam and 100% goose down that provides both superior support, upholstered in a wide range of coverings including fabric and fine Natuzzi leather, and in over 200 colors.
Colosseo offers a seating system with open elements for countless combinations. Its cultured, restrained and sophisticated design makes this sofa an outstanding representative of timeless Roman architecture.
Nelson bed by Cattelan Italia makes a fantastic central focal point in any contemporary bedroom. It portrays chic and fresh elements of wood and leather with a minimalistic design that fits in well with other modern furnishings while still standing on its own in style.
Designed by Andrea Lucatello for Cattelan Italia and manufactured in Italy, Lucatello continues to be a master of using proportion to excite the eye and defy gravity. The Nelson Bed honors design pioneer George Nelson's vision of a beautifully functional thin-edged bed that exemplifies elegant minimalism.
The design draws on rich, deep grained hard-woods (Canaletto Walnut or burned Oak) to sculpt a base with a distinctively "retro" touch. The hand-tooled Italian leather (or synthetic leather) on the partially upholstered headboard is pulled taught and sloped slightly, complimenting the long curvilinear, triangular bedposts.
The combination of curved accents and clean lines creates a one-of-a-kind, sturdy structure that will last for years and years. The upholstered headboard is soft to the touch, offering comfort when sitting up to read or watch TV.
See and experience functional art at Furniture Market Las Vegas